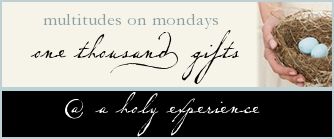 161. 2yo's bob and "flapper" look - her "dancy clothes".
162. Read faces and sweaty locks.
163. Husband getting there safely.
164. Warm sun through the window.
165 Anticipation of good fellowship.
166. My beet-red face after mowing the back.
167. Baking. . . my therapy.
168. Learning to let go.
169. Cool breezes.
170. "Stained glass" crosses on every window - constant reminders.
171. Lilacs - even if this is a low-bloom year.
172. Safety.
173. Bright green leaves on the sugar gum tree.
174. A mouth full of PB&J.
175. Brown bunny munching his lunch as I take my walk.
176. My two creative girls - always making, singing, dancing and "dreaming" - especially nice when they create together.
177. PB&Js and peanut butter cookies - the foods of childhood!
178. My four children - they've been given to me to train and help form. . . and to be formed by.
179. God loves me in all my faults and weaknesses - I am accepted and unconditionally loved.
180. My tree climbers.
181. Welcome home hugs.
182. Sibling play - chase, hide-and-seek.
183. The guy who let me make my left before going on his own way.
184. Watching TV with my kids for a bit.
185. Having husband back.
186. Sleeping on the sofa for Friday Night Late Night!
187. Filling the pantry.
188. "Can I bake the cake with you?" 6yo's desire to spend time helping me bake.
189. By the stream with the family.
190. Cool water on toes.
191. Smooth stones and odd shells beneath the clear, sparkling water - memories withing a memory.
192. Toy ships setting sail.
193. Rocking my 4yo in my arms the first half of the sermon. . .
194. . . . Looking at photo albums with him the second half.
195. Finally finding a "Strawbaewy Giwl" cake topper of sorts.
196. A good, yummy, big dinner - pork cooked just right.
197. Husband proud that I was humble enough to fix boxed mac & cheese - it's the little things that please him.
198. Tea together.