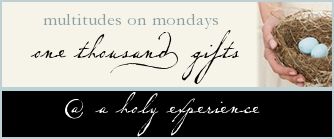 71. Fresh air! Glorious fresh air!!
72. Collaborative music of birds and wind chimes.
73. Bare feet; bare arms.
74. 81 degrees at 8:00 pm.
75. Weather that necessitates a quick yard pick-up ~ a gift to the neighbors. :)
76. Waking up in the morning with the bedroom windows open - listening to the chorus of birds outside.
77. Being inside on a windy, rainy April day!
78. Sooooooo many neat birds out in the rain.
79. 4yo wanting desperately for me to read to him. . . in spite of my obvious irritation. Sorry, little guy.
80. A slow moving train means more time to sing in the car with my kids and
Andrew Peterson
.
81. First wildflower bouquet of the year.
82. 4yo with hammer and nails and scrap wood.
83. 2yo with shovels and mud.
84. 6yo with new crayons and blank paper.
85. 8yo with friends and forest.
86. Little girl's surprised gasps over homemade felt toys - so simple.
87. Toasted coconut.
88. "Mom, I'm bored. . . Can I do math?. . . practice my letters?"
89. Bright forsythias along the graying highway walls through NYC.
90. Hilton chain's beds, pillows, and blankets - must be the coziest in the world. Where can I buy these?
91. 6yo pouring over
Little Bear
- really reading - so intent.
92. 8yo telling me about how the
Scarecrow, Tin Man, and Cowardly Lion
already had a brain, a heart, and courage.
93. "Mom, I'm a really good shell 'finda'."
94. Ice cream in a trough surrounded by a couple dozen happy kids - spoons in the air.
95. Mom's roast beef and gravy.
96. Driftwood and seaglass and little bitty shells and slow, comfortable conversation with my mom.
97. The sound my 2yo girl makes when she yawns.
98. A good night's sleep - the kind you don't want to get up from.
99. New England shake shingle houses, hospitality and hot breakfasts.
100. Chickens and fresh eggs in a back yard coop.
101. Planks nailed to branches high up in a pine tree - work of a child, enjoyed by my children.
102. Kids playing toe-tag with waves.
103. The undeserved mercy and grace of the Lord.
104. Aniticipation. . .
105.
Real ice cream.