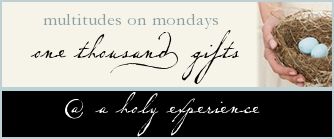 It's a habit of mine -
when things are at their craziest
, and any one of my children is causing more than their share of headaches,
I lean over, look in their eyes, and say, "I love you."
A reminder to myself and them.
And, until now, that comment was greeted with grumpy grimaces, rolling eyes, greivous growls, and an occasional chuckle. But my exhuberant, talkative
Mary has begun returning the gift of "I love you."
She looks back up and smiles with big blue eyes and replies with all the sincerity a two year old can muster,
"I love you, too, Mommy."
106. A 2yo's sincere love.
107. 2yo helping me fold soft, sweet-smelling laundry.
109. 2yo so very impressed with her 3yo brother's felt art.
110. Saying goodbye once. . . and then getting the unexpected opportunity to have lunch and say goodbye all over again.
111. Red buds on gnarled, white branches.
112. Children laughing - loud in the back of the van.
113. 6yo sleeping - dog in arms like a teddy bear - head pressed against cool glass.
114. A sack-full of yummy breads, courtesy of my mom. Breakfast: check! :)
115. Coming home to bright green grass and small baby leaves on our silver maple.
116. 4yo's sneezes.
117. Fellowship - the comfy kind.
118. "Rain on the green grass. . . but not on me."
119. Swish of water in dishwasher.
120.
Seeds
on the internet for lunch - 2yo singing along -
memorized Scripture
, so easy!
121. Bright-colored kids toothbrushes.
122. 4yo with grape hyacinths - I may never have flowers blooming in my yard, but I will always have a sill-full of lovingly picked bouquets.
123. SUNSHINE!
124. Dandelion in a jar with water.
125. Running into a friend at the library - great to talk! :)
126. Books! Lots of books!
127. Her little hand on mine.
128. Little piggy toes.
129. Dancing trees.
130. Seeds.
131. Everyone safe after a night of dangerous weather.
132. Boys who want to "camp out" with their dad.
133. Waking to sunshine after the storms.
134. The opportunity to serve husband by cleaning his office.