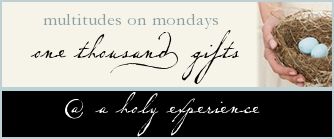 8.
Grace
- in even the seemingly most mundane areas of life. For some reason, it seems easier to accept God's forgiveness and grace when I mess up big - it's the small mistakes that get me clinging to His love most.
9. Warm beef stew and friends to
share
it with.
10. Did I mention
grace
?
11. The unconditional love of children -
my children
.
12. When my darling forces me to watch
a movie
with him, falls asleep, and leaves me loving it even more than him.
13. Family doctor / friend - one stop medical advice and childcare. Now that's living in
community
.
14. That it is only viral meningitis and
not the something worse
that was scaring the crazies out of me this morning.