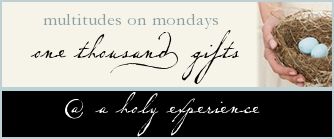 22 - The freshly fallen blanket of white
snow
. Sure, the warm weather was nice last week, but the white is simply beautiful.
23 -
Getting out
of the house as a family and NOT going to the doctor's or the ER. And the fellowship is wonderful over chicken, warm stew, the most delicious salad ever and brownies. :)
24 - Learning about the Word with other women at
CBS
.
25 -
Smoothies
, which instantly help my abused-by-rich-food-and-stress-eating belly.
26 - Kids sleeping in the family room
together
because we want to and not because their daddy's sick upstairs.
27 - Finding that
favorite lost recipe
.
28 - Getting back to
church
, again. . . remembering it's "fellowship lunch day". . . and having someone tell you it really doesn't matter that you forgot to bring what you signed up for and not to run out and get anything. . .